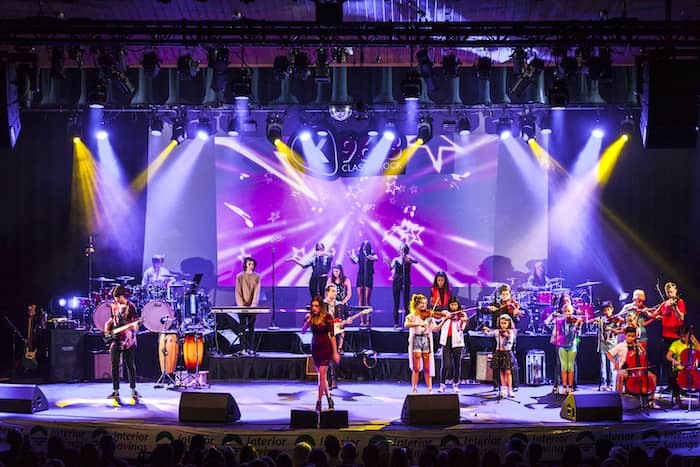 How To Put On A Student Rock Concert (Part 1)
If you're not doing big rock concerts for your students already, someone else will and potentially take your students.
Truthfully that was the fear I had AND the reason why we started doing our shows to begin with. And it completely set us apart!
So let me ask you a question.
If you had the choice, which Music School would put your kids in?
The one that offers Guitar or Piano lessons?
Or the one that make your kids look and sound like Rockstars in front of sold out audiences on a HUGE stage with all the moving lights and special effects because they took lessons?
To me the choice was obvious and that's what we created for our students. And, I couldn't imagine going back!
Twice a year for 15 years, our Music School put on huge, tour-like rock concerts for our students.
These are not small shows. We're talking about the real deal. BIG stage, BIG lights, BIG Sound and SOLD OUT audiences with lots or anticipation, advertising and excitement built in.
Is it a lot of work to put on a concert like this?
Absolutely!
But the benefits far outweighed the cost of time and work.
For us, the benefits of putting on a huge student concert were:
Increased student retention
Powerful marketing strategy
Insane amount of word of mouth advertising
Community Networking
Connecting with famous veteran artists
Sponsorships
Winning many Business, Community and Music Awards
Acted as differentiator (setting our business apart from our competition)
FREE Advertising (over $600,000) in

Print (newspaper, magazine)
Radio
Social Media
 Online News articles, Blog posts and event listings
Podcast advertising
Television Advertising
and more!

And grew our lesson program from 88 students to over 1200 weekly private students in a city of 140,000 people.
Here's how we did it.
How Long Does It Take To Organize A Student Concert
For a 20 song, two hour show and one person to organize the bulk of the logistics, 6-9 months.
This includes writing out parts for keyboard, saxophone, trumpet, violin, cello, bass, 2-3 guitars, lead vocal and harmonies to advertising, networking, liaison with sponsors, theatre techs and manager, communicating with teachers and more.
It's a big job but I did it on my own for 15 years.
In hind site, having teachers to delegate responsibilities to would have been very helpful (long story about why we didn't).
Who Gets To Be In A Student Concert?
First off, we made the concerts exclusive to students at our school as added value.
You could make them open to all music students in your community in hopes of attracting the to your school though.
How Experienced Should Someone Be To Perform In A Rock Concert?
Age doesn't matter. As soon as a student can hold down a basic part, they should get the chance to be in a band.
Lead Vocals: Can they sing in tune, have great delivery, expression, outgoing personality? These would potentially make a great lead singer. Stage presence comes naturally for some but students can be coached on movement and how to lead and band.
Back up Vocals: Again, great pitch is where to start.
Guitar: Learning, or knowing how to play a F Barre Chord is a good benchmark. At this point, students are familiar with strumming, picking and have good left and right hand capabilities for open chord shapes and power chords.
Bass: Playing 1/8th and dotted 1/8 notes
Piano: As soon as a student can hold down 1/5ths or triads with their right hand for a full song they're in!
Drums: Need to be able to play consistently and in time to the recording.
Ukulele, Strings, Woodwinds and Brass: Whole notes, Half notes, Quarter notes and 1/8 notes.
What Are The First Steps To Putting On A Student Concert?
Create the dream!
It starts with the concept or visual of what a show will look like. Once you have the visual, work your way backwards. That way you have a complete idea of the end product will be like. And if you fall a little short, you've still done something incredible!
I start by imagining what the stage would look like with risers, lights and animated back drops. Then draw out things out on paper on what we'd need to create it.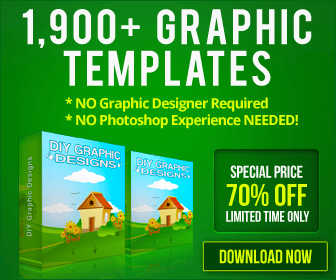 Convincing Your Teachers Why You Need To Put On Rock Concerts
You're going to need to have a team of other like minded teachers.
I would have a meeting with your teachers (Pro Tip: Bring Pizza and drinks) and ask them:
Do you want even more students now and in the future without struggling to find them?
Do you want to hold onto your students longer through sports seasons and even years longer than they they normally would stay? (student retention)
Do you want an overwhelming amount advertising or exposure for your lessons without having to spend money?
If they answered Yes, see below.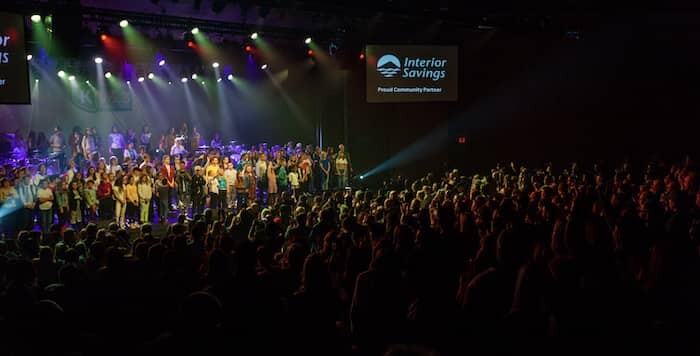 You Need A Team To Pull This Off
All the Teachers involved have to have the understanding that we could spend a lot of money on traditional advertising but it will never compare to this.
Everyone needs to be 100% focused on their students experiences and opportunities. Not just about making a little money teaching.
They need to also understand, you're not just giving music lessons. You're providing the reason WHY people take music lessons to begin with and giving students what they want.
The investment of time resulted in 2-3x more than traditional advertising can ever do because concerts like this are focused on the students experience and your community.
How To Pick A Theme For A Student Rock Concert
If you have a team of teachers that "get it", first you need to decide on a theme for the concert.
The Theme can be anything but should incorporate all the instruments you teach and be able to create a visual of the show in two sentences.
The Theme is important because it also gives direction and is way easier to promote than just saying "we're doing a rock show".
Here are a few example of what we did.
The Colour Concert [songs or bands with Colours in the title]
You should be Dancing [Songs about or mentioning the word Dance]
Back to the 80's [Hit songs from the 80's]
Journey Vs. U2 [An epic battle of Hit songs from 2 amazing bands]
1984 [Hit songs from Pop music's Brightest year]
The Beatles [20 songs from one of the most iconic bands of all time]
How To Sell Out A Student Concert
At first, every student will bring a minimum of 2 people to see the show (Mom, Dad and Siblings). A few concerts later they will being Grandparents, then Aunts and Uncles, Friends, Family. It's not uncommon that 2 people to grow to 8-20 people from one student. This is how you can sell out 850-1400 seat venues.
You have to trust me, this works.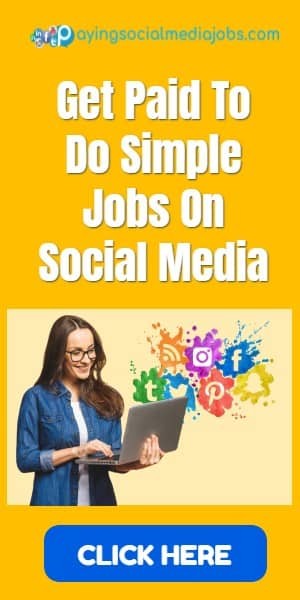 How To Choose A Venue For A Student Rock Concert
This should be the first thing you do. Start early if you want a specific date! Many venues book up a year in advance!
It starts with getting a date for the show but that's only the beginning.
We wanted our shows to be at the end of February and June. February makes most sense to avoid Christmas and give students the opportunity to prepare after Christmas Break. The End of June makes most sense to keep students engaged till the end of the school year and not drop out to sports after Spring Break.
If you think you'll have 100+ students in the show, shop around for a venue with 600-850 seats.
The other thing you'll need to know is if the venue has the equipment to achieve your vision as this will affect the overall cost of putting the show on if you have to rent the  equipment (stage risers, lights, mixing console, etc)
Ask the Theatres if they have stage risers and how many. Also, do they have lighting, a sound tech, a light tech, Hazer machine, rear projector. If they don't it will cost extra to rent.
I also highly recommend using a theatres staff technicians. They know the room better than you will and know how to operate the equipment.
I like doing things myself to save money but I'm so glad I chose not to with all the other concert responsibilities I had.
If you're doing the event for charity, ask the theatre if they have a a non-profit rate or school rate for the event. It may save you some money.
How Do You Create A Set List For A Student Concert
In a nut shell, stick to the most popular songs on the radio. Songs and bands that everyone knows.
Also, choose songs that incorporate all instruments and are easy to duplicate.
If the song parts are too difficult, pick another song. I was known to change the set list a few times before settling on the final set list.
The Importance Of Anticipation
After you have the venue worked out you'll need to start letting students know about what's going on. This is easier after the first concert so bear with me.
At first you need to be very sparing with information. Students will ask what's the next concert theme and I would respond "I can't tell you just yet but it's going to be SO AWESOME!"
I would do this for 2-3 months in advance of the announcement.
When you think about it, this is exactly what all the major touring acts do. The band is announced months in advance, then ticket sales are announced, give aways on the radio, then there's getting the tickets and then hearing the official advertising on the radio, TV or print.
All this leads to Advertising for the band or in your case your business name.
Anticipation is a major component of putting on a concert and directly affects your marketing, excitement, and reputation of your school.
How To Decide On A Song Part For A Student In A Concert?
It's really simple in theory: Beginner students get beginner parts, Advanced students get advanced parts.
Do not give a beginner part to an advanced student or give an advanced part to a beginner student.
There is absolutely no benefit to have a student be challenged. Save challenges for the students lesson.
The students part should be 75% of their current capability, Make it easy for them. Something they can learn in 2 weeks. That way they can walk on stage and kill it or not struggle to keep up when it comes time 6-8 weeks later.
The Importance Of Everyone Practicing To The Same Version Of Songs
Make sure you are all learning the same version of the song. Sometimes different arrangements and even keys are used from version to version of a recording.
Download the MP3's and place them in a folder in a something like a Drop Box account for students and teachers to have access to anywhere or anytime.
How Many Songs Are In A Two Hour Student Rock Concert?
Just like a traditional recital, usually one (*with exceptions).
*Bass students will usually play 2-3 songs (International shortage of Bass players), Back up singers will get 2 or 3 songs as well. Watch your vocal lesson program explode as students start doubling up on their lessons so they can be on stage more.
How Exact Of A Performance Of The Song Are You Aiming For?
You're trying to duplicate the song the same way it's on the album. Don't dummy it down. If you do, there will be students and parents complain that their version is not what they are used to listening to. You want people to be blown away. Aim for perfection but If the song lands as 75-80% of the recording, you did really well.
How Do Students Sign Up To Be In A Concert?
Students need to be approved by their teacher to sign up. Even though student can be very keen on being in a show, they have to be ready to hold down a basic part. This includes things like a Guitar student unintentionally bending strings while playing chords or being able to switch chords easily
Sign up forms should have with a photo/video release form to be able to take pictures and Video.
I'll do another post about our sign up form shortly.
How Much Should It Cost For A Student To Be In A Rock Concert?
You could ask, should I charge for tickets or do the rock concert for free like a traditional recital.
You've got to cover your costs so charging is the way to go but keep in mind, even if you loose money you're going to get a lot of advertising from this.
We charged a very small amount per person to cover the costs of the show. $13 at first then moving up to $20 15 years later as expenses increased.
The intention was never to make money but to provide an experience for the students that would inevitably create advertising for our business and increase our student retention.
We decided that any money left over after expenses would be given away to help children at our local Hospital.
It's crazy to say but we helped raise over $264,000 through these shows (more about why donations a good idea here).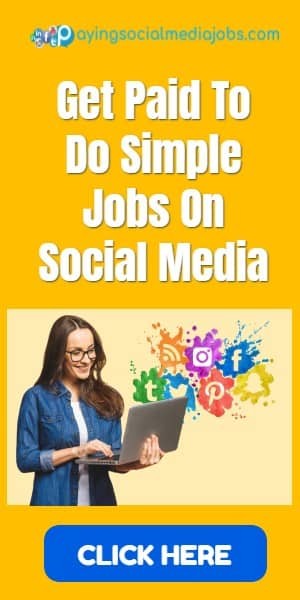 Who Writes Out The Song Parts?
In my case, I wrote out the majority of the parts in Sibelius but I left it up the the drum teachers to listen and teach their students their parts. Guitar and Bass players most of the time will learn a song by ear with help from their teacher but I would write out the parts if necessary. Everything else was transcribed note for note from the recording.
Sometimes I would enlist help from other teachers or a student who had a good ear to write out parts.
How Long Does A Student Have To Learn Their Song For A Rock Concert?
The parts are then taught by the teacher 6 weeks before the rehearsals.
Too long of a time means student loose interest. Too little and they won't be prepared.
Once the student has the song nailed, work on ways like arm moment or walking to create visual entertainment on stage.
How Many People Should You Put In A Student Band For A Rock Concert?
You need to put as many performers on stage as possible if you want to sell a venue out.
Our concerts had a minimum of:
2 Drummers
2 Electric Guitars
1 Acoustic Guitar
1 Bass
3 Keyboards
1 or 2 Lead Singers
3 Choreographed Back-up Singers
So 12-14 people on average but sometimes up to 40-50 students on stage at the same time depending on the song.
We would normally have 20 bands in a show so we would have 240 to over 300 students on average perform in a 2 hour concert.
If you have an MC announcing the students names before they perform, 20 songs equals a two hour concert.
If you get an MC to announce student names, try for a local radio show host and see if the Radio station would like to be a partner for the event.
Putting On A Student Rock Concert
All of this can be overwhelming to look at but it's very simple once you get used to it. If you leave time, have a check list with deadlines or dates of completion, one person can pretty do it all if the teachers help.
Contact
Noel Wentworth is the former Vice President of Education of the multi award winning Wentworth Music Education and is available available for consultation. You can reach him below.