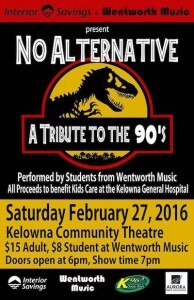 Saturday Feb 27, 2016
This show is SOLD OUT
Music Students Pay Tribute To The 90's
 Grunge, plaid shirts and echoes of the Seattle music scene all ring a bell when most of us think about the 90's. But there is also a lot of great music from Pop and Rock artists that have notably stood the test of time. Saturday, February 27, at the Kelowna Community Theatre, 160 students from Wentworth Music will pay tribute to those radio-friendly hit songs we all grew to love with "No Alternative – A tribute to the 90's."
 Now performing their 19th tribute concert, this time the Wentworth students will perform 20 of the greatest hit songs from the 90's. Songs like Smooth by Santana and Smells like Teen Spirit by Nirvana will all be covered in glorious rock and rock fashion with all the smoke, lights and special effects one would expect at a Rock concert. "It's hard to believe but now that songs from the 90's are becoming Classic Rock, it's the perfect time to put on a concert like this!" exclaims Noel Wentworth, Vice president of Education and Media at Wentworth Music.
In the past, the Wentworth students have paid tribute to everything from the Beatles and the Rolling Stones to KISS and Bryan Adams. But to Wentworth, the concerts are so much more than just a performance. "It's all about the dream of a sold out audience and impacting our community." And to that end he's done just that. According to Wentworth, the bi-annual Wentworth productions normally sell out the Community Theatre. "It's not just parents and friends coming out. We get a few hundred people from our community that aren't even related to the students who come out to see a great concert at a really reasonable price! It's a good idea to pick up tickets early." Most recently the Wentworth students got a once in a lifetime chance to perform with the award winning classic rock band Prism for a two hour concert dedicated to them. "It really was amazing to see and hear the band on stage with the students. Prism was so supportive and smiling all night!"
Wentworth is rightfully proud of their productions, but what makes these shows just a little more special is that they also raise money to help sick children. With help from Interior Savings, Wentworth Music and Kelowna's Classic Rock K96.3, The Wentworth themed productions have helped raise over $118,000 for the Kelowna General Hospital's Kids Care through ticket sales.
As a co-sponsor of this event since 2008, Interior Savings CEO, Kathy Conway promises an inspirational night.
"You will be impressed by the talent of our local youth, and inspired by what they are doing for kids in need," says Conway. "It's an event we are proud to be a part of."
Tickets for "No Alternative – A tribute to the 90's" are on sale now at Wentworth Music. $15 Adult, $8 student plus GST.  
www.wmec.ca