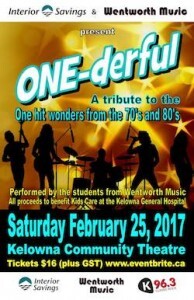 One-derful – A tribute to the one hit wonders from the 70's and 80's
SOLD OUT
Wonderful Wonders
Have you ever listened to a great song on the radio and wondered why that band or artist never came out with a follow up? Some might say it's just the nature of the music industry and many artists wind up having the glorious title of being a "One-Hit Wonder." Fortunately, though, these timeless songs are still played over and over, helping to keep them in our musical minds and hearts forever.
Saturday, February 24, 2017, Interior Savings and Wentworth Music present "One-derful – a tribute to the One Hit Wonders from the 70's and 80's." Sponsored by K96.3 -Kelowna's classic rock, timeless hit songs many of us grew up with like Come on Eileen from Dexy's Midnight runners, Video Killed the radio star by the Buggles and Play that funky music by Wild Cherry will all be brought to life and performed in full rock and roll fashion with costumes, lighting and special effects by the students of Wentworth Music.
Months of preparation and dedication have paid off and now it's time to rock! "This isn't like any music recital you've ever seen. It's a full blown rock concert and a tonne of fun!" exclaims Noel Wentworth, Vice president of Education at Wentworth Music.
Now in their 11th year and 21st concert production, the Wentworth students will once again be using their skills from their Music lessons to raise money to help their community through the Kelowna General Hospital foundation, specifically to support our youth with access to mental health services, education, housing and employment opportunities. The focus of the funds raised will be on prevention care and support as opposed to addressing these issues our youth have in isolation.
On average, one in four of our youth in our community is in need of services to help them through their most trying times. Youth mental illness is the second largest hospital care expenditure in Canada and an issue that impacts our entire community as a whole.
"We've created an amazing Win-Win-Win," explains Wentworth. Because all proceeds from these concerts go to help our community, the students not only get the feeling of importance from performing for a sold out audience, they also get to help their community through doing something they love to do. The students win, our community wins, and a life lesson is passed on that people can do what they love to do and help others at the same time. Notably, the partnership of Wentworth Music, Interior Savings and K96.3 has raised over $156,000 through these shows to help our community.
Tickets for "One-derful – a tribute to the One Hit Wonders from the 70's and 80's" at the Kelowna Community Theatre on Saturday, February 24, are on sale now at www.eventbrite.ca  $16 per person.